I know army lists are not the best loved thing in Oldhammer land but they do give a useful guide to organising your little horde of figures and making battles a little more 'fair' if that there is such a concept during battles of fantastic creatures.
Long term readers will know that I've been
threatening
to put a
Hobgoblin
army together for some time but keep getting distracted. I've decided that this Autumn I am actually going to try and get my shit together and start painting up this army.
Snicket
posted on his blog about putting a campaign together and mentioned about sticking to Warhammer Armies and I though it was about time I actually worked out what was going to be in my army.
The original idea for the army came from the wonderfully silly Chaos Marauders game,
and the brilliant little illustrations that come on the unit cards, both the original Blanche ones
and the ones from the current edition by Christophe Madura
the game portrays a squabbling horde of greenies tramping to battle and the attempt to get them to form a battle line in order to face your opponent.
I liked the idea of mixed army of greenies and I decided to use the Hobgoblin list in Warhammer armies as my starting point.
The hobgoblin list is not a full list and only covers a mercenary contingent. As such it Contains a Leader (with the option to mount him on a temple dog), A shaman, An army standard and bearer, Hobyars (Elite troops), Mourngul renegades (Basic troops) and Hobhounds and handlers. So far so good. Now I need to turn this into a proper army list. The first thing I need is Cavalry. First stop is Hobgoblin wolfriders. I've got two units so these will be really useful. There was a suggestion on the forum of upgrading a unit to be riding honhounds. Seems fairly fitting.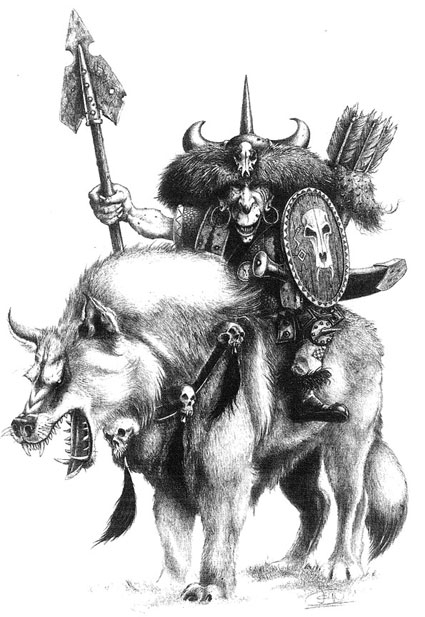 In order to turn my Hobgoblins into a mixed greeny force I need more goblinoids. The easiest thing to do is rip entries out of the orcs and goblins army list and drop them into my new list. The first one to suffer from this are scabbies, otherwise known as half-orcs. Yay!
The next unit is a little controversial but I see them fitting in perfectly to my vision of the army, Black orcs!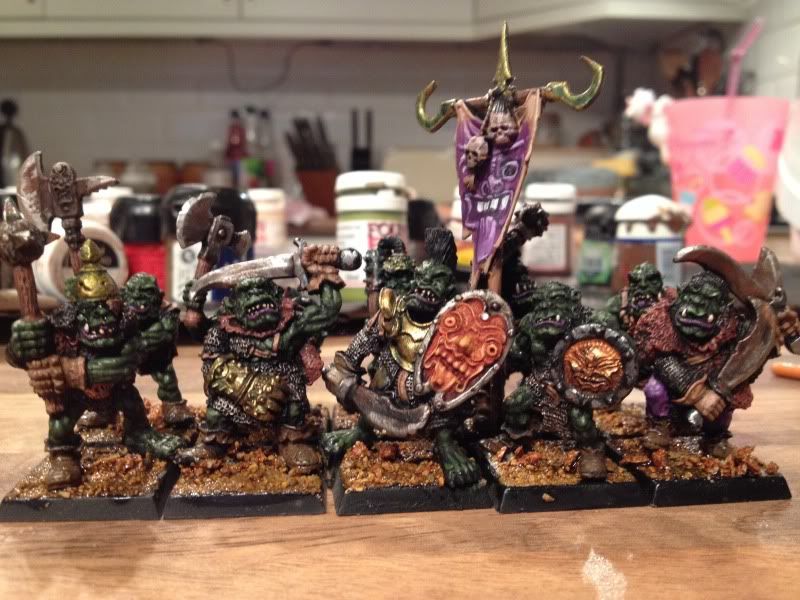 Someone suggested having an assassin as a character as well which seems to fit theme wise. Not sure how it work rules wise but we can worry about that later :)
Every army needs some warmachines. So for our bunch I am going to pluck for a bolt thrower straight from the O&G list with some hobgobs for crew as there is a model that needs to be used!
I'll go for rocket launchers as, again, there is a model available so we should include them.
Next I need to give a bit if thought about the allies and mercenaries that are available for me to use. In order to stick with my chaos marauders theme we will have allies from both the Orcs and goblins allies list and also the Chaos allies list.
I did consider undead as well but decided they didn't fit my theme (I could always have a shaman raising skeletons with Necromantic spells)
Mercenaries choices would be Ogres, Half-orcs, Orcs and possibly Giants.
So there we have it. No points, as that's boring, but a general idea of how I could organise an army for Hobgoblins. I'm not going to suggest that this is the definitive army list but I like to think of it as an example of an Oldhammer approach to putting an army together. By being imaginative and sensible and presenting your ideas to your fellow gamers you can build an army that suits your ideas, that comes form your imagination, rather than trying to stick slavishly to army lists. A gentlemans approach to wargaming.