As we were discussing getting a game in at Oldhammer day,
Cheetor
and I hit upon the idea of doing one of the scenario's involving the Abdul Goldberg. It only struck me later that we'd probably have to represent this mysterious personage on the board. My brain raced with ideas about how he might look, what figures I could use, either off the shelf or as a base for a conversion. What might he be armed with? What would he be wearing? What kind of pose will I look for? The only place to find clues were to look at the scenario's and see what details I could glean. I also thought it might make a good blog post!
For those not in the know, the Rogue Trader rule book contains a scenario generator. Now this isn't anything like modern 40k scenario's. Not just 'Take and hold' and whatever the other 5 are. Rogue Trader has 100 randomly generated scenario's divided into ten subcategories involving characters and plots, motivations and secrets. There is even an eleventh table to add other unexpected complications into the game. These scenario's are the reason that Rogue Trader is supposed to be played with a GM!
Abdul Goldberg is the only character that turns up in more than one scenario. In fact he turns up in 4. Usually as some kind of complication for the other players underhanded plot. Let's have a look at the first one.
Chart 1 - Reprisal - 81-90
'Abdul Goldberg stole your ship off you -the poker game was rigged and your sure he put something in your drink. Your crew are unhappy - having been turfed from their ship together with their possessions. The ship and its new crew leaves tonight - unless you can steal it back!'
Now this makes me think of one pair of gambling sci-fi heroes straight away.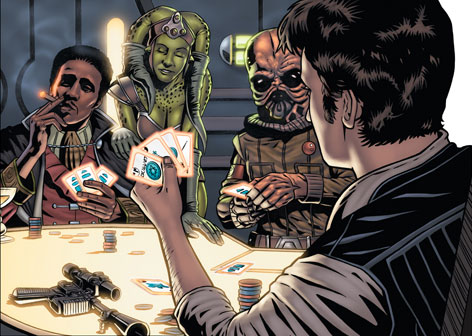 That's right. Hans Solo and Lando Calrissian. Two rogueish smuggling types made good. Of course, this would make our Abdul the Han character, so a nice shirt, waist coat and low slung blaster and maybe a cool pair of boots. Is Abdul be such a good looking gent? Might be and interesting way to go.
Next
Chart 7 - Raid and Kill - 91-00
Abdul Goldberg has crossed you for the last time-it was pure luck that your paths should cross on this isolated planet outside of Imperial control. He and his crew are relaxing down at Greasy Kim's Bar and Diner, unaware that you and your crew are ready to pounce. The Diner is mostly deserted, with only a few lonely vac-heads and spacers to witness the fight.
Here we are looking at a good old bar fight. One of the all time greatest barroom brawls is from the 1939 film 'Dodge city'
Brilliant! Of course another good one is from the David Niven version of Casino Royale but we'll stick with this one. We can make two style assumptions from this, our Mr Goldberg looks like a cowboy which is a little dull as this is obviously the inspiration for Han's style but there is the dapper gent that wanders down the stairs and joins in the ruckus. A nice dark blue thigh length coat, neat little tie and a black hat. Again we're looking at a pistol on the hip so we'll will try and stick with that.
Next
Chart 9 - Capture and hold
I'm not sure where this one leaves me but one film that involves a famous double-cross is Point Blank, but that's just famous for smart black sixties suits. Another film it makes me think of is Pacino's Dog Day Afternoon but all this offers style wise is shaggy hair and not so smart 70's suits. Feel free to give me anymore ideas.
And the last scenario
Chart 10 - Oddballl situations.
The obvious image that comes to mind is of classic pirate films. All swashbuckling and sword fights and it's a good place to take inspiration from but another plot I'm reminded of is from the start of Raiders of the Lost Ark. Here, our hero Indy, does all the hardwork only for the villainous Rene Emile Belloq to sweep in and steal the goodies leaving Indy to run for his life.
This gives us a nice suave linen suit and fedora or a silly ritualistic gown and a turban. So far we have lots of style tips for our Mr Goldberg.
The Turban does bring me to the most obvious clue about Mr Abdul Goldberg. His name. The mix of such obviously opposite, cliched names has a lot to do with the minds image of the character. But what does that say about us if simply use his name as a method of discerning the way he looks? Best avoided I reckon. Besides 40,000 years into the future I'd imagine the origin of names would be shrouded in mystery.
So based on our rather tenuous evidence we can surmise that Abdul Goldberg is a handsome rogue, probably wearing a waistcoat and a nice tie (future stylee obviously) with a pistol slung low on his hip and cool hat of some description.
Does that sound like the mysterious Abdul Goldberg to you?
No?
Me neither.
Bugger.