I had a bit of luck recently and managed to bag most of the Angel gang from the old citadel Judge Dredd range. Above are Pa Angel and Link Angel.
And here is Mean and Junior. And here is a lovely family pic.
The lovely chap down the front is Fink and he's the only model I missed out on (I was sniped!). But I'm still chuffed that I got so many. I've long been a fan of 2000ad but collecting the mini's was more by accident than design. Mongoose's rules do look pretty good though and I reckon I'll get round to using them at some point. Part of the reason I'm trying to keep the terrain projects as neutral as possible is so that I can use them in as many different games as possible. Lets face it, I don't want to be making terrain and scenery for every combination of figs and rules that I intend to play. If I can have a load of stuff that can be used for 7tv, Judge Dredd, Fistful of Kung-fu and Rogue Trader in various configurations then I reckon my gaming mates and I will be happy. If it's needed at BOYL then all the more reason to get it finished.
In the same purchase I also got a couple of Perps, Zodiac on the left and Captain Ravioli on the right. Strangely enough they probably scale better with RT stuff the with the angel gang but the more mad sci-fi figures the better.
These figures will go along with the other Judge Dredd stuff I've collected. Anderson, Dredd, Hershey, Giant another 3 judges. 3 SJS judges, 2 riot judges, Dredd on a bike (which was actually painted by me 25 years ago!) A Klegg and two Citi-def. I've got a citi-def sniper (which looks similar to Rogue Trooper Morgen) and another SJS judge coming in the post which will give me 3 or 4 groups alongside the EM4 stuff I've got for gangs as well. Christ knows when I'll get all this painted. Once my BOYL projects are done lets see.
Talking of 7TV, inspired by this figure, which is a conversion of a copplestone castings figure,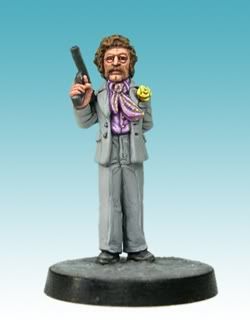 I thought I'd have a bit of greenstuff practice while sitting watching the telly (vampire nonsense the wife was watching). He's originally an Artizan designs figure but I've chopped his head off and replaced it with a maxmini head. I've added lapels to his coat and an nice scarf rather a tie. I've given him a nice frizzy hair piece and sideburns and a tache. I've tried doing tache's before and find them really fiddly but hopefully this one has worked. We'll see when I undercoat him and paint him.
And finally just a quick pic of the other servitor that I finished for the Pirate gang. That means that the crew is finished and I only need to paint another couple of figures for that game and it's done. Then I can move on to the Confrontation gangs for the game Asslessman is looking to run . So total so far is 14 down 17 to go!