I know it's Shit Curis. It was deliberate....Kind of.
Being an fart of the old variety (oh me back!) I have a hard time remembering basic stuff, like the list of shopping the wife has asked me to get at the shops. Once she's spouted off 5 or more things I tend to stick my hand in the air and shout " Whoa! Whoa! Write me a list. " Now, part of that is laziness, I admit, but it is also a product of 10+ years of sleep deprivation cause by little people and generally just getting older and fuzzier.
This means that actually trying to remember all the rules in a game (which i've never been very good at to be fair) is a right pain in the arse. And it seems this is a problem for a lot gamers who find them selves endlessly flicking through rulebooks trying to figure out where that rule about burrowing creatures attacks is. I'm sure it's here somewhere.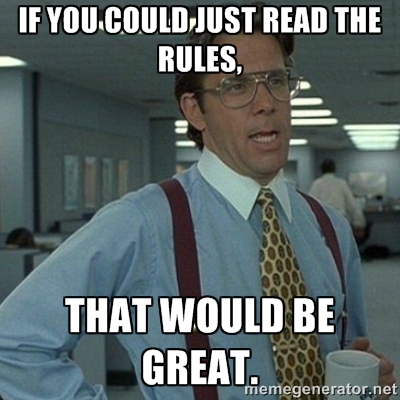 What makes it worse is that half the time it's not even in the version of the rules you are supposed to be playing! For instance, I learned my Warhammer basics by playing a lot Warhammer Ancients. I played far more of that than Warhammer Fantasy simply because it was what I got the opportunity to play. Hence my knowledge of any Warhammer Fantasy game is going to be coloured by WAB. 'What do you mean Cavalry can't countercharge as a charge reaction?'
A Cavalry countercharging yesterday
3rd Edition Warhammer was a lovely book to look at but pain in the arse to use. The layout of books from that period are terrible. The text is dense as fuck and finding anything takes ages. 2nd Edition is much more user friendly from that point of view and weighs a fuck of a lot less and the same can be said of 4th edition. After that you are just endlessly tinkering with the basics.
Your wife and her friend tinkering with your Warhammer while you were out. A couple of minutes ago
You can see why people tend to look for other rules to satisfy their 'big blocks of infantry and cavalry' needs. Kings of War seems popular, although i've never played it, as it's a system that relies on unit being a set size. So you can mount the figures any way you want as long as the unit fits within the regulation (think of a unit as having base restriction rather than the figure) and this is a format that used in historical games quite a lot (DBA etc).
A KoW army, tomorrow 'Almost there!'
Part of the upset with the coming of Age of Sigmar (which I urge you to play, you'll get the 'Warhammer feels' I promise) was that the blocks of infantry game was gone. People like the aesthetic. They like to see an army lined up ready for battle with individual units picked out by their banners, ready to advance to the enemy and route them from the field. It does look bloody cool. It's one of the best moments of the hobby. So I understand that wanting to play a game like that is the ultimate goal for many of us. But sometimes finding the right rules, and remembering them all is incredibly difficult.
What can also be galling is playing a game that is 30+ years old knowing that there are betters ways of doing the same thing already out there, just labelled as historical or as a different branch of Fantasy.
What i'd like is a game that takes the best bits from all the versions of Warhammer, all the bits that worked well and didn't need improving (but got changed anyway) mixed in with all the bits of other games that work well and would make the game even better. Then all of that to be presented in two pages of A4 that will give you a fun, challenging, playable game that can get played in evening with blocks of infantry, blocks of cavalry, war engines, hero's and wizards.
So the question is...What would you want in your game?
Here are some of my wishes
1. The Hero as leader of brigade of units like in Fantasy Warlords.
2. Canon shots that you estimate and that bounce.
3. Movement of blocks of infantry without wheeling!
4. Cavalry that has countercharge as a charge reaction.
5. Light cavalry that can fire and flee.
6. Deployment points like in Sharp Practice where units deploy from during the game.
7. Simple Magic system that is seen as part of the game.
8. The fewer modifiers the better.
9. The fewer tables the better.
10. The fewer stats the better.
What about you? What would you want in your SuperUltimate version of Warhammer?
Answers on a postcard.
Or just...you know...reply using technology and stuff.